CRAFTS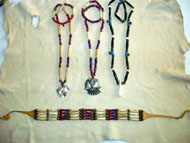 "Unique Native American Crafts offered by Cherokee Trails Trading Post"

"Please Note, All orders are shipped US Priority Mail with Delivery Confirmation"
Native American Crafts
Please note Our Shopping Cart Is being Transfered, Please call your order in to us.
Native American Crafts designed and crafted by Native American Artisans, and offered by Cherokee Trails Trading Post.
---
Pipe Tomahawk

The pipe tomahawk is a commercially produced one made from a cast iron head and wooden stem patterned after the ones used as a trade item from both the English and French to the American Indians in the 1700's. Approx. three fourths the length of the handle is covered with your choice of either Red or Blue 3 band Wool Trade cloth (other colors are available on a limited basis) which extends well past the handle for about 18". The handle portion is then covered with a 5-6" section of smoked brain tanned buckskin to form a "handle". A 20-22" piece of smoked brain tanned buckskin is then added at the end of the wool trade cloth and cut to provide the fringe. The brain tanned handle is then adorned with Glass beadwork (this can be customized to your request). The handle is then completed with two "dangles" strung with antique trade beads and finally finished with two more dangles with feathers and either brass or tin cones. THESE ITEMS ARE NOT PREMADE. THESE ARE BUILT TO YOUR SPECIFICATIONS WITHIN A CERTAIN LIMIT. I DO NOT - WILL NOT USE PLASTIC BEADS OR INFERIOR ITEMS. All items are of quality and I guarantee my workmanship and materials. You can get "cheaper" items else where, but remember, you get what you pay for. It does not ship unless I am satisfied with it.

Catalog#: CTTP-030 Price: $500.00

Please Call 435-232-6882 to Order
---
Black Bear Claw Necklace

This one has a full set of 20 matched (from the same bear) XXX Large Black Bear Claw Necklace with old original antique trade beads that date back to the 1500-1800's. This necklace is for display purposes only to show the quality of work, if you would like one made with quality replica claws, please contact me. The Black Bear Claws are approx. 3" long on the outside curve. The center bead at the bottom is a Hudson Bay Yellow Heart (also called "Cornaline d' Aleppo", and was used as a trade item by the Hudson Bay Company from the late 1600's thru the early to mid 1800's and has both Red Eye Beads (also called "Crow Medicine beads" or "skunks beads") and Black Eye Beads (Crow Medicine or Skunks) with a few "Thousand Eye Beads" also included. The outside strand of beads are Red "White hearts" also called "Cornaline d' Aleppo" made in Venice in approx. 1760's. In 1764, some 2,288,000 pounds of beads were manufactured in Venice, Italy alone! The bear claws are obtained from established, lawfull sources and are accompanied by their CITES permit numbers. Crafted by Bob Strong Bear.

NOT FOR SALE

Please Call 435-232-6882 for more information!
---
Turtle Pipe

This turtle pipe is a representation of Wayne Letang's work. This particular pipe was recently sold, but similar pipes can be crafted for you. If interested, please order the turtle pipe and then we will contact you and see how we can create one for you.

Catalog#: CTTP-031 Price: $367.50

Please Call 435-232-6882 to Order
---
| | |
| --- | --- |
| | The Indian Arts and Crafts Association (IACA) is a not-for-profit organization established in 1974 to support the ethical promotion and protection of authentic Native American art and culture. IACA works to stop fraud and abuse within the market for Indian art through education, publicity, authentication and use of our logo to indicate certified ethical businesses. IACA sponsors the largest wholesale trade shows of handmade Indian art in the world twice a year. Members include Native American artists, wholesale and retail dealers, museums, collectors and others who support the goals of the organization. IACA supports and works for the protection of indigenous art worldwide. |