FLAGS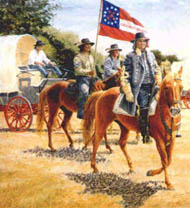 " The words "Cherokee Braves" was the name of Brig Gen. Stand Waite's Regiments as a whole. from "ECHOES OF GLORY, Arms and Equipment of the Confederacy"

"Please Note, All orders are shipped US Priority Mail with Delivery Confirmation"
American Indian Flags and Banners
Please note Our Shopping Cart Is being Transfered, Please call your order in to us.
---
---
---
| | |
| --- | --- |
| | The Indian Arts and Crafts Association (IACA) is a not-for-profit organization established in 1974 to support the ethical promotion and protection of authentic Native American art and culture. IACA works to stop fraud and abuse within the market for Indian art through education, publicity, authentication and use of our logo to indicate certified ethical businesses. IACA sponsors the largest wholesale trade shows of handmade Indian art in the world twice a year. Members include Native American artists, wholesale and retail dealers, museums, collectors and others who support the goals of the organization. IACA supports and works for the protection of indigenous art worldwide. |